Using Spring Cord Ends
Purchase Spring Cord Ends & Rattail Cord
here
.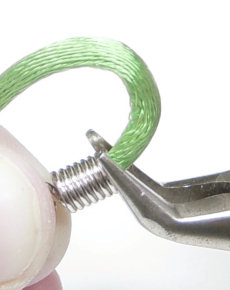 Insert the cord into the end of the spring ring. Gently grip opposite sides of the top loop of the ring with your pliers - I use my bent nose pliers here.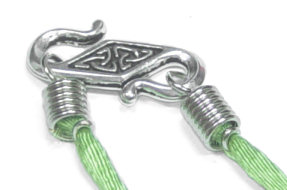 Gently, flatten the top loop shut around the cord. Make sure it is nice and tight. When you have it right, you can pull the cord, and it will stay fast, and the spring will stretch a little with the pressure.

I ruined several cord ends before I got the hang of it. Get some scrap cord, and practice some before you use these on a finished piece. When you're practicing, remember if you goof the top loop, you can always get your wire cutters out and trim just that top loop off, and try again. That will give you a little extra practice without burning through your supplies.

My biggest mistake was placing my pliers on the wrong part of the loop before I flattened it. I would end up with a nice, secure cord, but there would be a scratchy piece of wire sticking out past the edge of the cord end. Moving the tip of the pliers closer to the very start of the wire on solved my problem, and gave me a nice secure finish with no errant edges.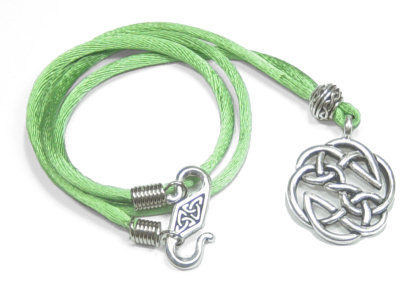 Put on your toggle, and you're ready to wear. I made this necklace as an example to photograph for the website, and have been wearing it ever since! I have very sensitive skin (no tags on my clothes), but the rattail is so comfortable I can wear it all day! I love it!