TierraCast Leather Findings Collection - Part II
New for February 2014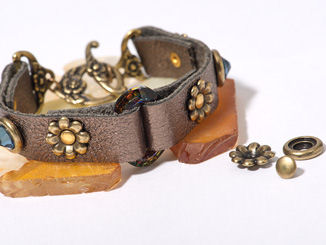 Focals and Rivetables: Five fabulous focal links and nine rivetables truly expand riveting possibilities! The slightly curved focals are great used as long links in bracelets, earrings, and other designs, or riveted to leather or to other surfaces.
Leather Crimp Beads and Sliders: Two new barrel beads, wide enough to allow multiple passes of round leather cord and one slider that fits on our 1/2" leather strap. All can be crimped with a simple pair of pliers!
Clasps: Four new focal quality clasps, all different but each offering a beautiful way to end your piece with a stylish yet secure closure.
Decorative Strap Tips and End Bars: Six sophisticated options to end your leather designs. Three new beautiful strap tips and three end bars to choose from. The 1" distressed slide will accommodate two pieces of our leather strap to create a wider bolder look.
Rivets, Eyelets, and Washers: A larger rivet with a longer post and three lengths of eyelets offer more stacking and design options such as linking, lacing, attaching, and embellishing. Our sweet little washers are perfect for reinforcing and adjusting project depth. All are available in six finishes and are incredibly easy to use.
Tools: TierraCast's new 4mm and 6mm rivet setters and eyelet setter/anvil set were created to work perfectly with TierraCast rivets and eyelets. These beautiful tools are stainless steel for long lasting durability and the unique hex shape provides comfort, stability, and prevents rolling.
New Leather Strap Colors and Leather Flowers: By popular request, we have added two new leather strap colors, a sunny bright yellow and a light grey. We are also adding leather flowers in three sizes and eight colors - layer and rivet them for a unique, textural addition to your designs.