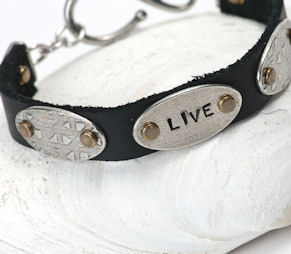 Rock and Roll Oval Link
This lovely link is textured on one side, and smooth on the other - perfect for stamping and personalizing. It measures about 24mm long (about 1") and 13mm wide. The holes size is 2.5mm - making it ideal for using with compression rivets to attach to flat leather. Total thickness of materials to be riveted, including the link, should not be more than 3.1mm. This is rivetable with our 4mm compression rivets.
These links are slightly curved, but for stamping (or any other reason) TierraCast suggests flattening them by placing them with the curve up, on a flat, firm surface, and gently pressing down. Works like a charm!
Pack of 1 - $1.90
Pack of 4 - $6.65
Pack of 20 - $27.90
American made by TierraCast® with culinary grade lead-free pewter.
The Antique Gold and Bright Gold finishes are approximately 20% higher than the prices shown.