TierraCast Maker's Collection
New for July 2014
For years we've hoped for kumihimo supplies from TierraCast. For years we've asked (okay - begged...) At last, and they are so worth the wait ...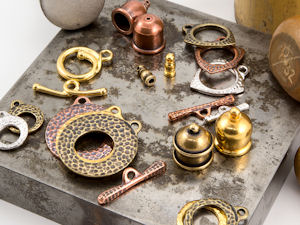 Cord Ends: here they are! This collection consists of three styles, four sizes and five finishes of turned brass cord ends. They were designed by Steven Tierra and are manufactured in China, using third party tested compliant brass, and are finished in the United States by TierraCast's plating vendors so they mix and match beautifully with our entire product range.
Toggles and Clasps: The five bench jeweler style toggles come in four diverse finishes and are a perfect partner for the cord ends. The textural simplicity of the patterning and the graduated sizes complement the delicate to the bold and speak to old world technology and DIY elegance.