The Celtic spiral and knot work in these designs were the tribal art of the people inhabiting Europe and the English Isles beginning in circa AD 800. The designs we use are taken from stone carvings found in the Pictish areas of Scotland. Other sources include the Book of Kells. The designs are considered religious zoomorhpic art depicting animals sacred to the Celts, shapeshifting by the Druids, or mythological characters. The knotwork symbolizes regeneration. It personifies the soul's journey to perfection along the thread of life which unendingly returns to its devine source.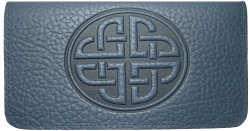 Leather Celtic Checkbook Covers
The Oberon checkbook cover is designed to fit carbon or non-carbon standard checks on one side, and the convenient flap on the opposite side is perfect for stashing receipts or cash. This gorgeous leather cover is hand-tooled in the United States.
Covers measure 3.5" x 6.5", fits standard size checks (including duplicates/carbon). Designs are stocked only in the colors pictured.
Click On Colors Below To View Designs:
Saddle &nbsp Green &nbsp Wine &nbsp Black
| | |
| --- | --- |
| An elegant gift and companion to our Celtic leather checkbook covers, the card holder will hold business cards or credit cards. Measures 4" x 2.75". | |